◆ CITROEN DS : Letter from DS Friend in USA.
◆ アメリカで"珍しい地震が「ワシントン近郊」で起きたとの新聞記事を見たと思ったら、直ぐに America の友人から Mail が来ました。
◆ 新聞記事は下のようなものでした。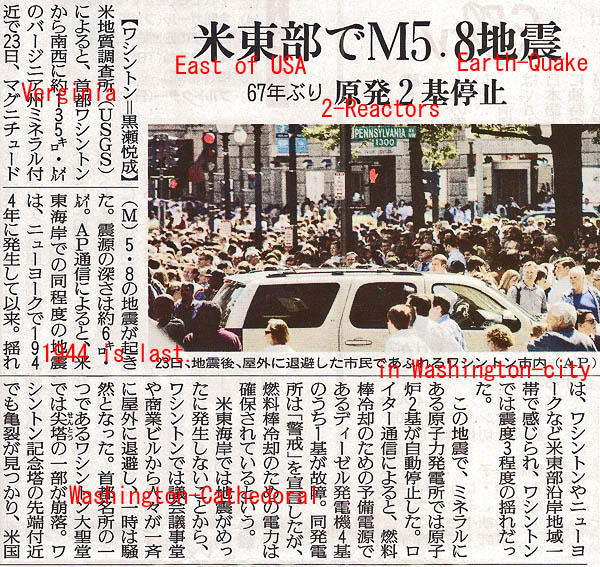 ◆ Letter from Ken: アメリカで起こった地震、"信じられないような"少なさだ!!!
 上に載せた記事が下に書いてあります。その記事を説明?を付けて返信しました。
Hello Takashi,
The preliminary report from
Three Mile Island nuclear power plant is that the 5.9 earthquake today (Tuesday the 23rd) had no effect.
The report said a detailed inspection was in process to see if there was any hidden damage. The center of the earthquake was about 80 miles (130 km) south west of Washington, DC.
My wife and I were at home today when it happened and didn't feel anything. I've only once experienced an earthquake and that was one measuring 2.9 originating near the earth surface just a few km away. My wife and I were seated in the balcony of a local concert hall. The orchestra had just started to play. They stopped, waited for about a third of the audience to leave, and then started over. It was a strange feeling, unlike anything I had felt before. Had I been standing up, I don't think it would have made me fall down.
▼
NHK World News
は、この頃 FUKUSHIMA の"放射線"問題や原発依存を減らして行く方針???等を (決まっても居ないから無理か・・・) 報道していないようだ!菅下ろしでは報道できないものねえ・・・
▼
We've had very little information about Fukushima since our last e-mail exchange. Television reception of the station that has NHK World news (in English) has been poor this summer and when I can receive it, there is no or very little information about it.
Just today I read a translation of the blog written by a robot controller at the power plant. It was forwarded by our IEEE organization (of which I'm a retired member). They said the original blog has been removed, but the IEEE is keeping it available because they feel people should know what the controller wrote. If you have not read it, I can send you a copy.
After many very hot days this summer (a record 41 C one day), we've had a very nice day today (about 24 C and low humidity) and I have enjoyed driving our Citroen for local errands. I admit to being addicted to the air conditioning in the Toyota when it is hot. We have central air conditioning in our house and are happy that it and our local power company worked without interruption.
I understand that the expected power "blackouts" in your part of Japan have not happened.
We greatly enjoyed attending the Citroen Rendezvous in Saratoga Springs (in New York state) in June.
I've not found any report of it on the Internet, but have an e-mail from George Dyke that the next issue of Citroenvie will have a report. That newsletter is distributed as a PDF file attached to an e-mail message. If I'm not mistaken, you are on the distribution list and are able to download PDF files (via a free Adobe program).
The next issue will have a short article I wrote about an improved exhaust flexible pipe (between the manifold and muffler).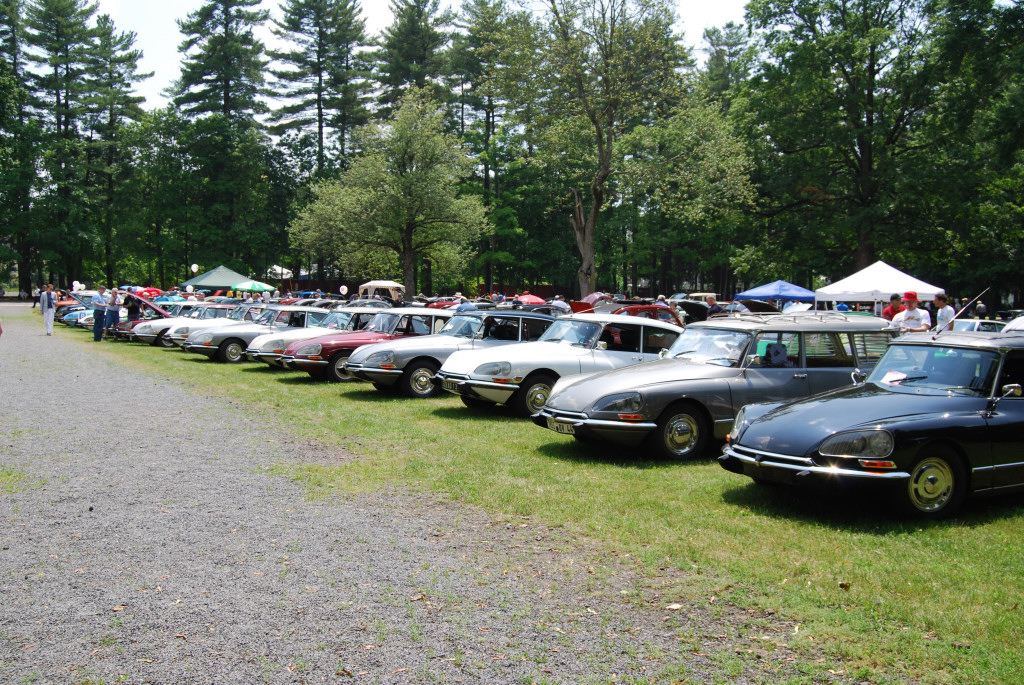 ◆ 写真は皆"クリック"すれば、かなり拡大します。photo by NIKON D40X,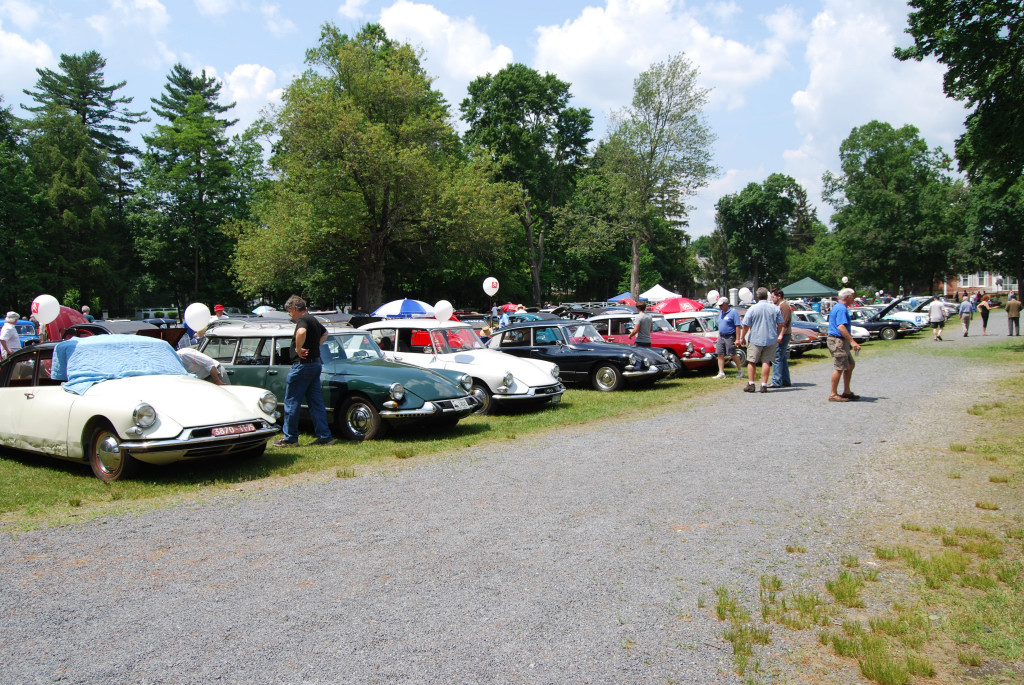 Rendezvous organizer Robert Monteleone tells me 150 people registered in advance. He says this is a count of those who paid in advance and that a small number may not have attended after paying for it -- but may not include a few that came without paying in advance. Also, I don't know if that number includes people like my wife and I who attended by driving a car that wasn't a Citroen.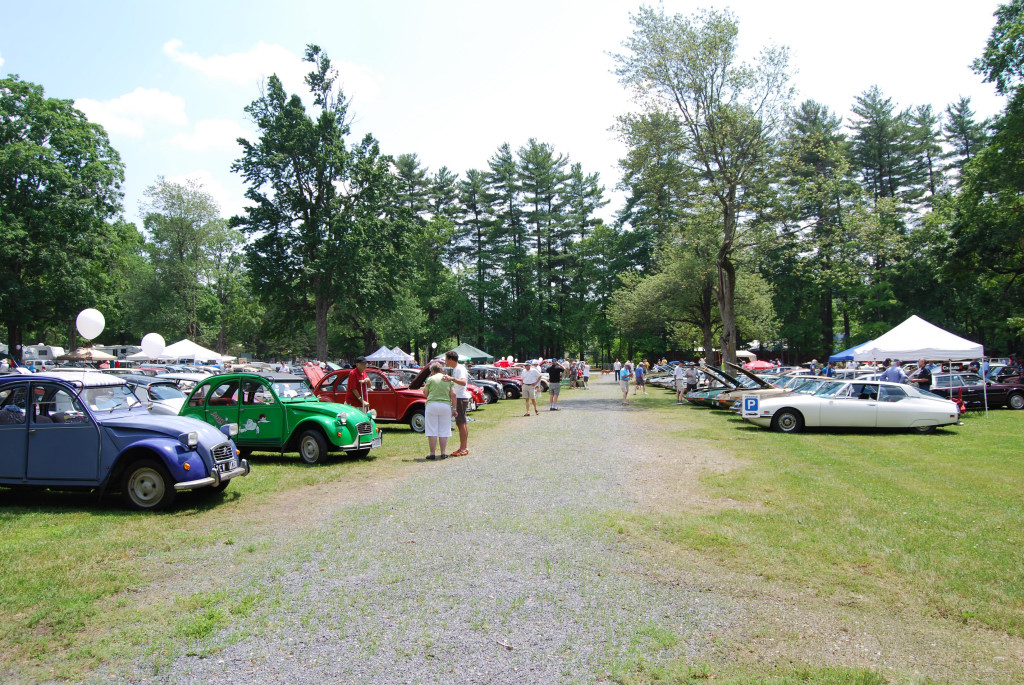 Attached are the photos I took at the Rendezvous. I made no attempt to show all the Citroens and freely admit my "heart" is with the D-model in its various forms -- DS, ID, D-Special, Station Wagon (also called Break and Familiar).
I talked with an old friend from my Chicago days (1969-1972) who now owns a DS-23 that may be just like yours (other than color).
He had an unusual ignition problem in hot weather or after driving the car for a long time. It was due to a defect in the ignition coil -- something that almost never fails (at least never for me).